Just a few months ago I was watching the donation ads for the Children's Cancer Hospital Egypt (CCHE 57357) on TV unaware that one day I would be standing under its big glass dome and surrounded by its people moving like bees in a hive. And as much as I loved presentations and enjoyed being on stage, the realization of me being there got my hands to be a bit shaky while presenting.
"What does that mean?" was probably the most frequent thing I said throughout the first couple of weeks during our orientation lectures and tours. One of the most important tools that a designer should have is curiosity; to ask and not take things for granted. I once heard that a baby's brain collecting data is like a sponge absorbing water. And so, it was time to think like one!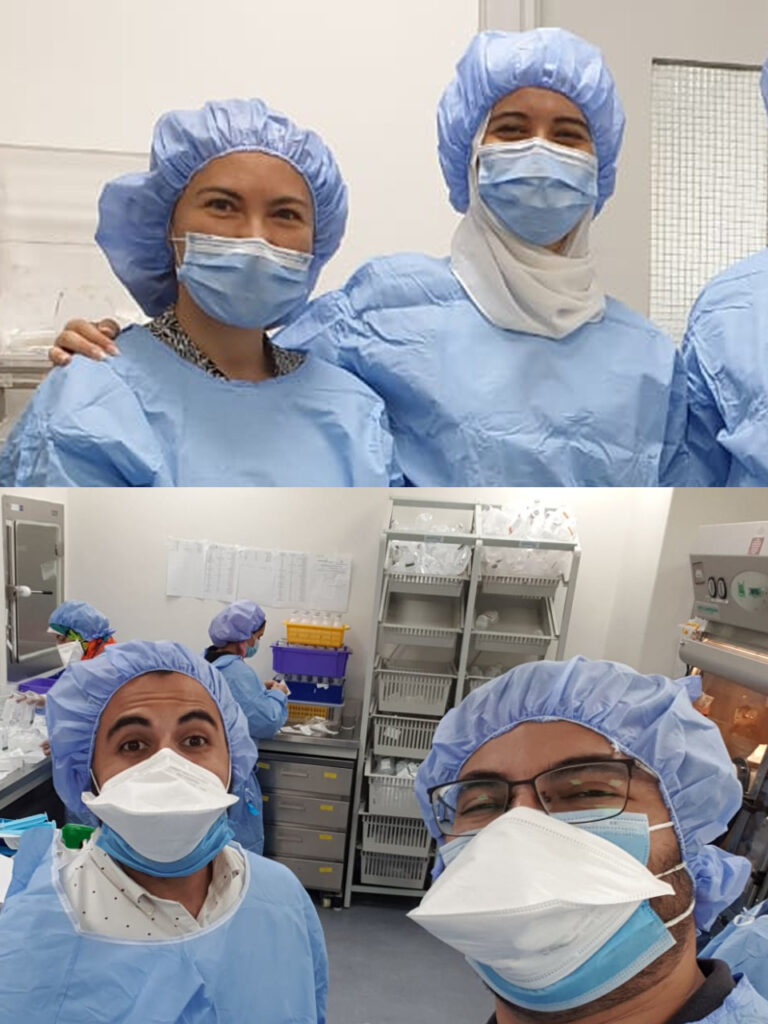 I am thankful for my team, Amir, Dina, and Shadi, who constantly educated me and sometimes explained to me medical terms and procedures even before I had the chance to ask about them. At first, it wasn't easy and there were times when I felt overwhelmed by the amount of knowledge I had to acquire to be able to keep up with my team. Nevertheless, step by step, everything started to make more sense like combining puzzle pieces together to get a meaningful image.

Our immersion started in what initially felt like a marathon to fulfill a certain target. We couldn't believe we would record so many observations in such a short time. Gradually, we realized it was possible and started to be more focused on certain areas in the hospital such as the Day Care Unit (DCU) where patients receive their IV infusions and chemotherapy, the Clinical Pharmacy where life-saving medications are prepared and checked before their delivery to the patients' rooms, DCU, or the dispensing pharmacy.

At first, we quietly observed both different procedures and various interactions between the healthcare team members, the patients, and their caregivers. Then, we transitioned from being a fly on the wall to getting a first-hand experience in the complex fabric of the hospital's operations. One memorable experience for us was entering the IV Mix, where drug compounding takes place, in our caps, gowns, overshoes, and masks.

Although we couldn't try out the compounding process ourselves, having such a close look into the journey of the drug -from being just a label to being created in the glovebox and finally handed over to be checked and packaged with other drugs before reaching the patient- was simply inspirational. Not only because of its moral value but because the complexity of operations in this department acts as the nucleus to every success in this hospital.

During the last two weeks of the immersion, we focused more on the DCU and its patients. Based on a collection of observations and hypotheses, we felt that it needed a closer look on how things worked -specifically- from a patient's perspective. I headed to the DCU reception to say hello to Mr. Ahmed and ask for help. He greeted me with the same smile he shows to everyone and that I have witnessed since day one at the hospital. With his guidance and better judgment, I was introduced to a mother whose daughter was to receive chemotherapy that day.

The mother, Arwa (the patient), an older sibling and me -shadowing them- started our journey from that reception desk, passing by several checkpoints such as Radiotherapy, Radiology, DCU and different assessment points in these departments. The 6-hour long journey involved a lot of challenges such as miscommunication between departments, long queues, waiting periods, keeping the children entertained… etc. I strongly believe that the hospital is offering all its best to its patients and their caregivers. However, it is almost certain that an over-populated hospital will have a hard time to pay full attention to and address the patient and the caregiver's experience and feelings.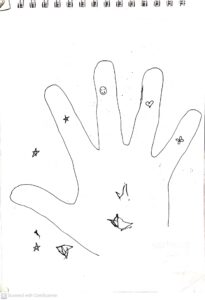 Empathy, in many design thinking approaches, is considered the first stage to understanding the patient and accurately identifying problems. And this experience required all the empathy I could generate. I was lucky that Arwa and her family were open about expressing their emotions and did not alter their attitude with me around them and soon enough, I myself was in sync with their mood levels. I was no longer a shadow and was trying to help them navigate obstacles as much as possible. And my notebook became a sketchbook for Arwa during long waiting periods when there was no other option for entertainment.
Despite the long day, the fatigue and occasional incidents of frustration, all went well. I went back home and even though I was quite tired and emotionally burnt out, I was content with the outcome and was looking forward to the next phase.
Mayar Morsy
Team Clinical Pharmacy, CIF 2020