A lot has happened since our clinical immersion at the Children's Cancer Hospital Egypt (CCHE 57357). During our 6 weeks at CCHE, we witnessed 678 observations, which helped us identify 314 unmet needs. After pinpointing all these needs, we faced a perplexing conundrum: how can we choose only ONE need to try to solve when each need presented an opportunity for us to innovate and improve? Also, how can we prevent ourselves from falling in love with one of the needs and remaining attached to it prior to fully understanding each of them? And, most importantly, how can we validate whether that need truly is THE most important one to tackle?

And so we embarked on a journey to choose just one need through a rigorous, objective process of screening to identify opportunities and challenges…
We studied the disease state fundamentals of the needs…
We analyzed existing solutions…
We mapped the influence and interest of the stakeholders involved…
We evaluated the market…
And we challenged ourselves repeatedly…
We challenged ourselves to not be biased towards a need…
We challenged ourselves to not jump into coming up with solutions…
We challenged ourselves to postpone inventing…
We challenged ourselves to reject the misconception that innovation depends on magic…
In order to complete this journey though, first and foremost, we had to accept and appreciate our difference in opinions and points of view that stemmed from our different backgrounds; as our team is composed of a diving medicine specialist and technology guru (Amir), a clinical pharmacist turned business developer (Shadi), a product designer with an interest in healthcare (Mayar), and me, a dermatology consultant and a healthcare management specialist (Dina); united together by a common passion for improving healthcare services in Egypt. Stepping into the intersection of our disciplines allowed us as a team to examine each need from multiple perspectives.
As a physician who has been working in the healthcare sector for more than 10 years, it was a unique opportunity and an eye opening experience to see how those from other disciplines view how things are done in healthcare. Despite working in healthcare for so long and witnessing and trying out new technologies and treatments as they entered the market, it was my first time to be in the "inventor's seat". This presented as a personal challenge as I had to disassociate from my preformed ideas about the status quo and to accept that I can influence the way things are done. In order to do so, I tapped into my innate curiosity and allowed myself to ask my favorite question more frequently (namely "why?"); and I intentionally became a more active listener as I wanted to hear and learn from the opinion and experience of my team members.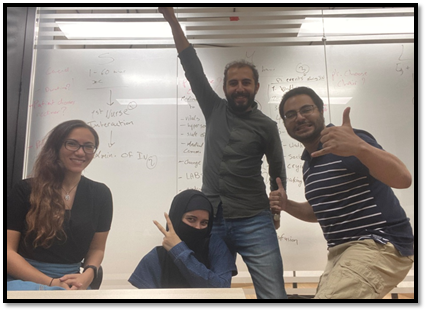 Through an intense process, we progressively dived deeper into the needs that have the most potential. We narrowed down our 314 needs to 120 needs, then to 50 needs, then to 20 needs. We relied on different methodologies to do so; namely our intuition at times and detailed research at other times. Eventually, we arrived at the five most promising needs which—if we can solve—will have a major impact on healthcare.
Our top five needs were: a way to prevent chemotherapy induced hair loss to improve the quality of life of those receiving chemotherapy, a way to minimize the unutilized drug in the vial to decrease drug waste and save millions of pounds, a way to decrease the patients' reliance on memory to decrease errors and improve health outcomes, a way to ease peripheral venous cannulation to improve the patients' experience, and a way to deliver services remotely to traveling patients to increase access to care. We did not expect that choosing one need out of these top five would be the most challenging part of our journey in the needs screening stage.
Now that we have clearly identified the clinical need (the problem, the affected population, and the desired outcome) that we will work on solving, I look forward to starting Phase 2 of the Biodesign innovation process… It is now time to INVENT!
"I find out what the world needs, then I proceed to invent it" – Thomas Edison
Dina ElDisouki
Team Clinical Pharmacy, CIF 2020